Out now:
xBrainiax - Hail Fastcore CD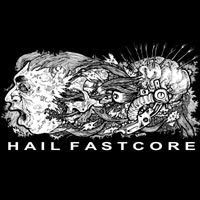 A full hour of eye blurring, mind thrashing, face ripping fastcore, this CD is a discography of everything so far. 99 tracks from their splits with NOCOMPLY, SU19B, DEAD RADICAL, their Disgrace the Corpse of Eric Wood 7", comp tracks from Trapped in the Scene, as well as various demo tracks and awesome live tracks! LÄRM, THE NEOS, and NO COMMENT shed a tear as blood trickles from your ears after listening to this beast.
Buy now here
V/A - A Product of Six Cents II CD
The comp to end all comps. Lots of sweat and labor went into this one. Bands include: ASSHOLEPARADE, FINAL DRAFT, COKE BUST, GEORGE HARRISON, NOCOMPLY, THE SCROTUMS, LAKE EFFECT, SPAZZ, ANS, DEATH JUNGLE DEATH, AAS, CHILDREN'S CRUSADE, COMMON ENEMY, ANSOJUAN, BIZARRE X, ROCKET ATTACK, XBRAINIAX, HOY PINOY, SUDDEN SEIZURE, BASTARDASS, MOBILE TERROR UNIT, MAGRUDERGRIND, RHINO CHARGE, THE BEGINNING OF THE END, CHARRED REMAINS AKA MAN IS THE BASTARD, BOMBARDE, PISSED HAPPY CHILDREN AKA PHC, 50/50, UMMM, APATHETIC RONALD MCDONALD, IGNOR ANUS, SLAPENDEHONDEN, and MAX WARD. Bonus tracks from volume I on the CD version includes: SUPRESSION, SHORT HATE TEMPER, LACERATION, LACK OF INTEREST, THE END OF THE CENTURY PARTY, PALATKA, as well as more ASSHOLEPARADE, SPAZZ, and NOCOMPLY.
Buy now here
Mesrine / P.L.F. - split 7"
The bubonic plague has returned to this generation. Social structure has become irrevocably changed and pandemonium has ensued. The carrier this time was not rats. No. This time the virus has been carried off ships on this morbid slab of vinyl, infecting millions. The MESRINE strain comes directly from Canada. Inhabiting the neutral country for more than a decade. It has been spreading across the US and Europe. Brutal blasting blows to anyone who has encountered this. The newer strain is P.L.F.. Equally as volatile, P.L.F. delivers instant nausea to anyone infected. Delivers grinding headaches and will thrash one's body leaving bruises all over. People infected with either should immediately buy this record and continue doses for as long as they have symptoms. All is not lost. Killer artwork by Matt Gauck.
Buy now here
Upcoming Releases:
TLAL24 - Party by the Slice / ¡Malparido! - split 7" - raging hardcore, New Zealand vs USA
TLAL26 - V/A - Illegal Grinding CD - Crucial grind comp from 6 countires
TLAL28 - Hummingbird of Death - Show Us.. CD+ - 22 songs of intense fastcore, TLAL exclusive, enhanced CD
TLAL29 - Deathrats - s/t 7" - crushing and limited to 300, female fronted noisey hardcore
Future Releases:
TLALXX - Get Destroyed! - Burnt Offering 7"
TLALXX - Conga Fury / Shitstorm - split 7"
TLALXX - Agathocles / Violent Gorge - split 7"
TLALXX - Archagathus / Axed Up Conformist - split 7"
TLALXX - Rhino Charge - Discography CD
TLALXX - V/A - Animal Right Benefit 7"
TLALXX - Arctic Choke - s/t 7"
TLALXX - Mondo Gecko / D9 - split 12"
TLALXX - P.L.F. / Downtrodden - split 7"
More info on all releases at:
HTTP://WWW.TOLIVEALIE.COM